| | |
| --- | --- |
| | |
by Gordon G. Chang • July 9, 2016 at 5:00 am
The West has developed reasonable-sounding rationales for not acting in the face of what is clearly aggression by big powers. That inaction has bought peace, but the peace has never been more than temporary.

Officials in Beijing and Moscow believe their countries should be bigger than they are today. Faced with little or no resistance, China and Russia are succeeding in redrawing their borders by force.

Should we be concerned by a nuclear-armed, hostile state falling apart? Of course, but we should be more worried by a hostile state launching nuclear attacks on the Baltics, as the Kremlin has repeatedly threatened to do.

The Chinese and Russians may be villains, but it is we, through inaction, who have permitted them to be villainous. The choice is no longer risk versus no risk. The choice is which awful risk to assume.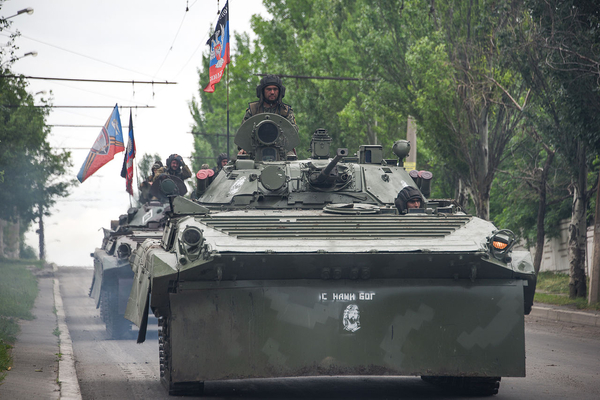 Armored vehicles of a Russian-backed rebel force near Donetsk, Eastern Ukraine, May 30, 2015. (Image source: Mstyslav Chernov/Wikimedia Commons)
Speaking in April at the Aspen Security Forum in London, Douglas Lute, Washington's permanent representative to NATO, said:
"So essentially there is a sense that, yes, there is a new more assertive, maybe even more aggressive Russia, but that fundamentally Russia is a state in decline. We have conversations in NATO headquarters about states in decline and arrive at two fundamental models: states in rapid decline which typically lead to chaos and breakdown, and states in gradual decline. Then we ask ourselves: Which of these two tracks would we rather have our nearest, most militarily capable neighbor, with thousands of nuclear weapons, move along? To many, trying to manage Russia's decline seems more attractive than a failed state of that size and magnitude right on the border of NATO."
Continue Reading Article