Jihadists Target Spain
"The actions of your ancestors are the reason for our actions today."
by Soeren Kern • September 27, 2016 at 5:00 am
The Islamic State document said that since the establishment of the Spanish Inquisition in 1478, Spain "has done everything to destroy the Koran." It said that Spain tortured Muslims, including burning them alive. Therefore, according to the Islamic State, "Spain is a criminal state that usurps our land." The document calls on jihadists to "reconnoiter airline and train routes for attacks." It also calls on followers to "poison food and water" with insecticides.

"We will kill any 'innocent' Spanish infidel we find in Muslim lands, and... whether we are European in origin or not, we will kill you in your cities and towns according to our plan." — Islamic State document, May 30, 2016.

"We will recover al-Andalus, Allah willing. Oh dear Andalus! You thought we forgot about you. I swear by Allah we have never forgotten you. No Muslim can forget Córdoba, Toledo or Xàtiva. There are many faithful and sincere Muslims who swear they will return to al-Andalus." — Islamic State video, January 31, 2016.

"Spain is the land of our forefathers and we are going to take it back with the power of Allah." — Islamic State video, January 7, 2016.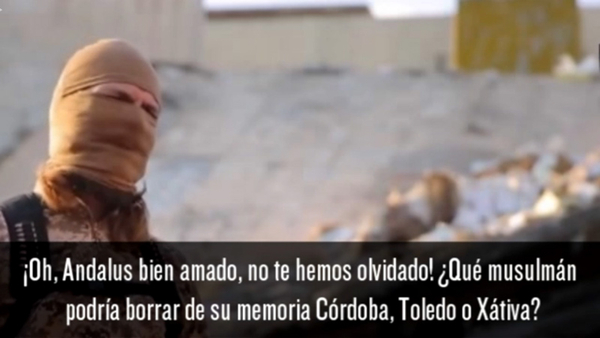 An armed, masked Islamic State jihadist appears in a propaganda video, where he warns Spain that it would "pay a very heavy price" for expelling Muslims from al-Andalus hundreds of years ago. The Spanish subtitle above reads "Oh dear Andalus! You thought we forgot about you. I swear by Allah we have never forgotten you. No Muslim can forget Córdoba, Toledo or Xàtiva."
Islamic militants are stepping up a propaganda war against Spain. In recent months, Islamic State and other jihadist groups have produced a flurry of videos and documents calling on Muslims to reconquer al-Andalus.
Al-Andalus is the Arabic name given to those parts of Spain, Portugal and France occupied by Muslim conquerors (also known as the Moors) from 711 to 1492. Many Muslims believe that territories Muslims lost during the Christian Reconquest of Spain still belong to the realm of Islam. They claim that Islamic law gives them the right to re-establish Muslim rule there.
Continue Reading Article

by Burak Bekdil • September 27, 2016 at 4:00 am
"[I]n spite of dire predictions by secularists, the [ruling] AKP did not introduce conspicuous efforts to Islamize Turkey. But since 2011, this has changed." — Svante E. Cornell, in "The Islamization of Turkey: Erdogan's Education Reforms."

In 2014, Turkey's government introduced a scheme which forcibly enrolled about 40,000 students at Islamic "imam schools," and granted permission for girls as young as 10 to wear Islamic headscarves in class.

A new study by the Organization for Economic Co-operation and Development found that 43% of Turkish women aged between 15 and 29 were neither working nor receiving education.
Turkish police and soldiers transport handcuffed military officers, who are accused of participating in the failed July 15 coup d'état. (Image source: Haber Turk video screenshot)
One way the rise of Islamist authoritarianism in a country can be seen is by the rise in the number of mosques, religious schools and prisons -- coupled with a sharp decline in the quality of education. Turkey is no exception.
Most recently, the Turkish government said that it would build 174 new prisons, increasing capacity by 100,000 convicts. This is Turkey's reply to complaints that six convicts must share a cell built for three. Convicts say they must sleep in turns in their bunk beds.
Before that, Turkey's government released nearly 40,000 convicted criminals, in order to make space for tens of thousands of suspects, including journalists, businessmen and academics, detained after the failed coup of July 15.
Continue Reading Article