| | |
| --- | --- |
| | |
In this mailing:
by
Soeren Kern
• January 17, 2017 at 5:00 am
"I am not an Islamophobe. Women have the right to wear headscarves, but I do not understand why we are embracing this religion [Islam] and those manners that are incompatible with the freedoms that are ours in the West." — Pierre Bergé, French fashion mogul.

French security officials rejected an Israeli company's offer of terrorist-tracking software that could have helped them identify the jihadist cell that carried out the attacks. "French authorities liked it, but the official came back and said there was a higher-level instruction not to buy Israeli technology," a well-placed Israeli counter-terrorism analyst revealed.

Jacques Hamel, the priest who had his throat slit by two Muslims in Normandy, had donated land adjacent to his church to local Muslims to build a mosque, and they had been given use of the parish hall and other facilities during Ramadan.

At least five of the jihadists who carried out the attacks in Paris and Brussels financed themselves with social welfare payments: they received more than €50,000 ($53,000).

Muslim employees at Air France have repeatedly attempted to sabotage aircraft, according to Le Canard Enchaîné. "Concerning Air France, we have seen several anomalies before the departure of commercial flights," an intelligence official said.

"There will be no integration until we get rid of this atavistic anti-Semitism that is kept secret. It so happens that an Algerian sociologist, Smain Laacher, with great courage said that 'it is a disgrace to maintain this taboo, namely that in Arab families in France and elsewhere everyone knows that anti-Semitism is spread with the mother's milk.'" — Georges Bensoussan, sued for alleged hate speech against Muslims for having made this statement.

The Mayor of Beziers, Robert Menard, was charged with incitement to hatred for tweeting his regret at witnessing "the great replacement" to describe France's white, Christian population being overtaken by foreign-born Muslims. "I just described the situation in my town," he said. "It is not a value judgement, it is a fact. It is what I can see."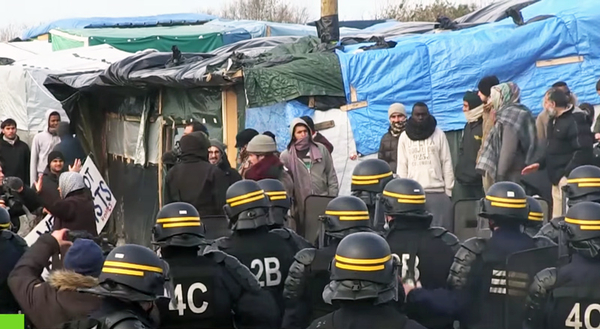 French riot police attempt to control a crowd of migrants in "The Jungle" squatter camp near Calais, on February 29, 2016, as demolition teams begin dismantling the southern part of the camp. After being pelted with stones and other objects, police responded with tear gas and water cannon. (Image source: RT video screenshot)
The Muslim population of France was approximately 6.5 million in 2016, or around 10% of the overall population of 66 million. In real terms, France has the largest Muslim population in the European Union, just above Germany.
Although French law prohibits the collection of official statistics about the race or religion of its citizens, Gatestone Institute's estimate of France's Muslim population is based on several studies that attempted to calculate the number of people in France whose origins are from Muslim-majority countries.
What follows is a chronological review of some of the main stories about the rise of Islam in France during 2016:
JANUARY 2016
by
Shoshana Bryen
• January 17, 2017 at 4:30 am
After 23 years and billions of dollars, the Palestinians still lack "infrastructure for a viable... economy." They cannot manage "service delivery." And there is no "civil society" in Palestinian Authority (PA) areas able to express dissent or disapproval of Mahmoud Abbas's 12-year power grab of a 4-year presidential term. Gaza under Hamas is worse.

Even the Europeans and John Kerry acknowledge that the Palestinians have no capacity for self-government. This is, in part, because there has been no demand by the donor countries for such things as budgetary accountability and transparency, or a free press and civil society in PA areas to demand more and better of its leaders.

The PA also pays terrorists and their families with foreign donations. And then there's the matter of Palestinian corruption and outright stealing.

The Trump Administration will have a lot on its plate beginning this week. But if it really wants to help the cause of Israel's security, legitimacy and acknowledged permanence in the region, it would do well to insist that U.S. taxpayer dollars be spent accountably or not at all, until the Palestinians get their financial, as well as political, house in order.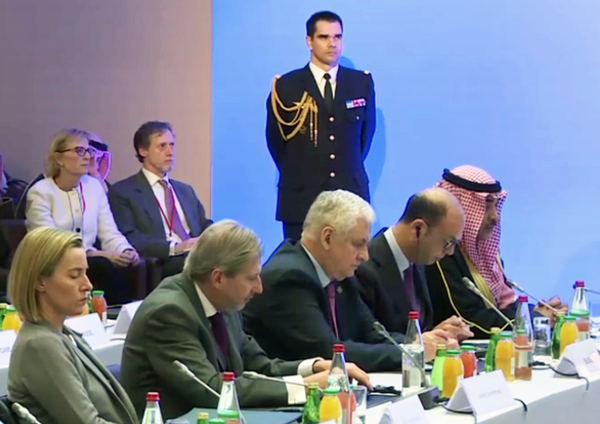 The Paris Peace Conference, January 15, 2017. (Image source: Ruptly video screenshot)
The Paris Peace Conference was not as bad as it could have been. The British and Russian governments sent low level delegations. Some of the wording in UN Security Council (UNSC) Resolution 2334 disappeared, and the assembled agreed to resolve "all permanent status issues on the basis of United Nations Security Council resolutions 242 (1967) and 338 (1973), and also recalled relevant Security Council resolutions." Resolution 242 is the benchmark for Israel's security requirements and its right to legitimacy and permanence in the region. And "recalling" is somewhat different from "planning to enforce."
Most interesting, however, is a three-part section toward the end. The mostly-European plus American gathering: