In this mailing:
Khaled Abu Toameh: Palestinians' Real Enemies: Arabs
Mohammad Amin: Iran's Elections: Black Turbans vs. White Turbans
by Khaled Abu Toameh • April 17, 2017 at 5:00 am
The Arab heads of state and monarchs do not like to be reminded of how badly they treat Palestinians and subject them to discriminatory and apartheid laws.

It is not comfortable or safe to be a Palestinian in an Arab country. Scenes of lawlessness and anarchy inside Palestinian refugee camps in the West Bank have also driven many residents to move to nearby cities and villages. Most refugees in the West Bank no longer live inside UNRWA-run camps.

Let us end where we began: with the Palestinian (non)leadership. What has it done to help its people in the Arab countries? Nothing. No Palestinian leader will urge an emergency session of the UN Security Council to expose the ethnic cleansing and killing of Palestinians in Arab countries. No Palestinian leader will demand that the international media and human rights organizations investigate the atrocities perpetrated by Arabs on their Palestinian brethren. We are sure to see more such criminal silence when Abbas meets with the president of the United States.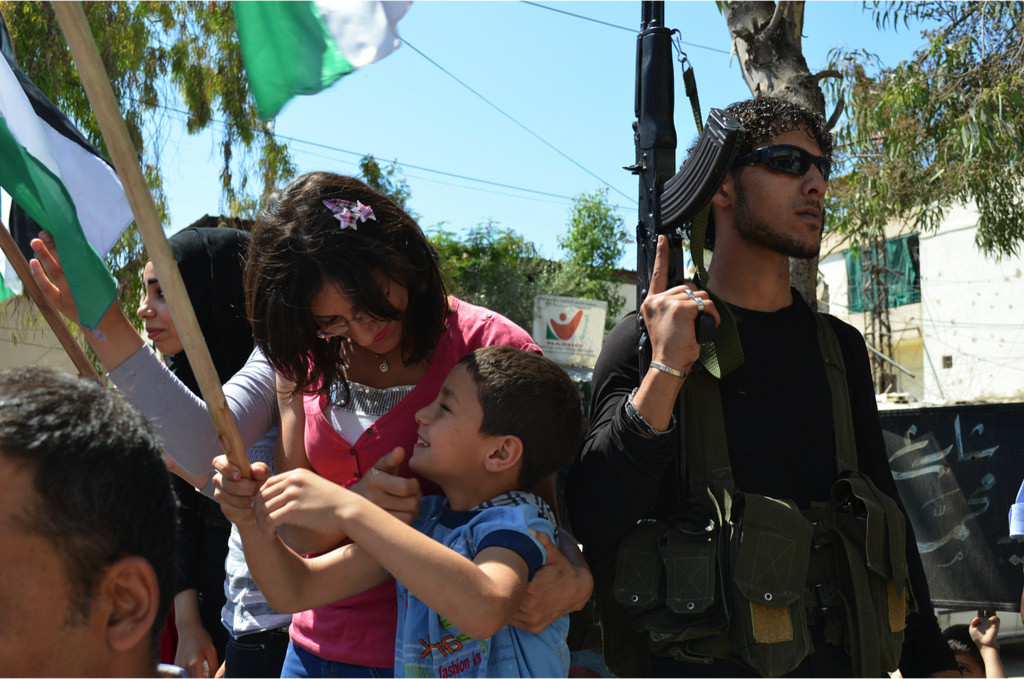 A street celebration in Lebanon's Ain al-Hilweh camp, July 2015. (Image source: Geneva Call/Flickr)
Palestinians living in refugee camps in the Arab world are facing ethnic cleansing, displacement, and death -- but their leaders in the West Bank and Gaza Strip are too busy tearing each other to pieces to notice or even, apparently, care much.
Between the Palestinian Authority (PA) and Hamas, it looks as if they are competing for the worst leadership, not the best. Clearly, neither regime gives a damn about the plight of their people in the Arab world.
PA President Mahmoud Abbas, who is scheduled to visit Washington in the coming weeks for his first meeting with US President Donald Trump, spends most of his time abroad. There is hardly a country in the world that he has not visited since he assumed office in January 2005.
by Mohammad Amin • April 17, 2017 at 4:00 am
Any distinction between "extremists" and "moderates" in Iran's political establishment is false.

Whatever the results of the upcoming Iranian elections, there will be no shift in Tehran's human rights violations or core aims of regional hegemony and pursuit of nuclear weapons.

What does matter is the behavior of the West, particularly the United States, in the near future. If it again resorts to cooperating with Iranian-backed forces in Iraq and Syria, Khamenei will not only be able to pursue his regional and global interests unfettered, but will be better equipped to contain crises at home.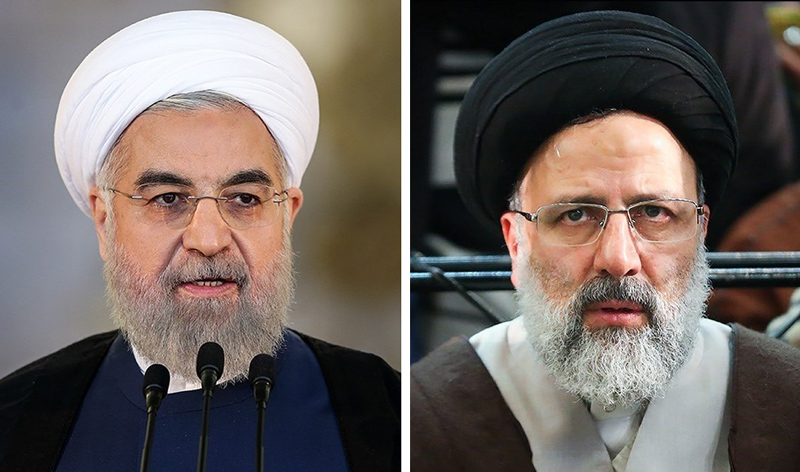 Iran's elections have observers wondering whether the "white turban" incumbent, Hassan Rouhani (left), will retain his position or be defeated by his likely contender, Ebrahim Raisi (right), the "black turban" mullah. (Images source: Wikimedia Commons).
The presidential elections in Iran, scheduled for
May 19
, have observers wondering whether the "white turban" incumbent, Hassan Rouhani, will retain his position, or be defeated by his likely contender, the "black turban" mullah, Ebrahim Raisi, known for his key role in the 1988 massacre of more than 30,000 political prisoners.
More importantly, the question on Western minds is how and in what way the Islamic Republic will be affected by either outcome.
The two periods in Iran's recent history that need to be examined in order to answer this question are that of the tenure of former firebrand President Mahmoud Ahmadinejad (2005 to 2013), who also announced he is running again, and the one that has followed under Rouhani.