by Judith Bergman • April 15, 2017 at 5:00 am
Norway seems to be making the same poorly thought-out choices as Britain.

It has apparently not occurred to these authorities that encouraging Muslims in prison to study the Quran and hadiths, with their exhortations to jihad against the "infidels", may in itself serve to radicalize the inmates.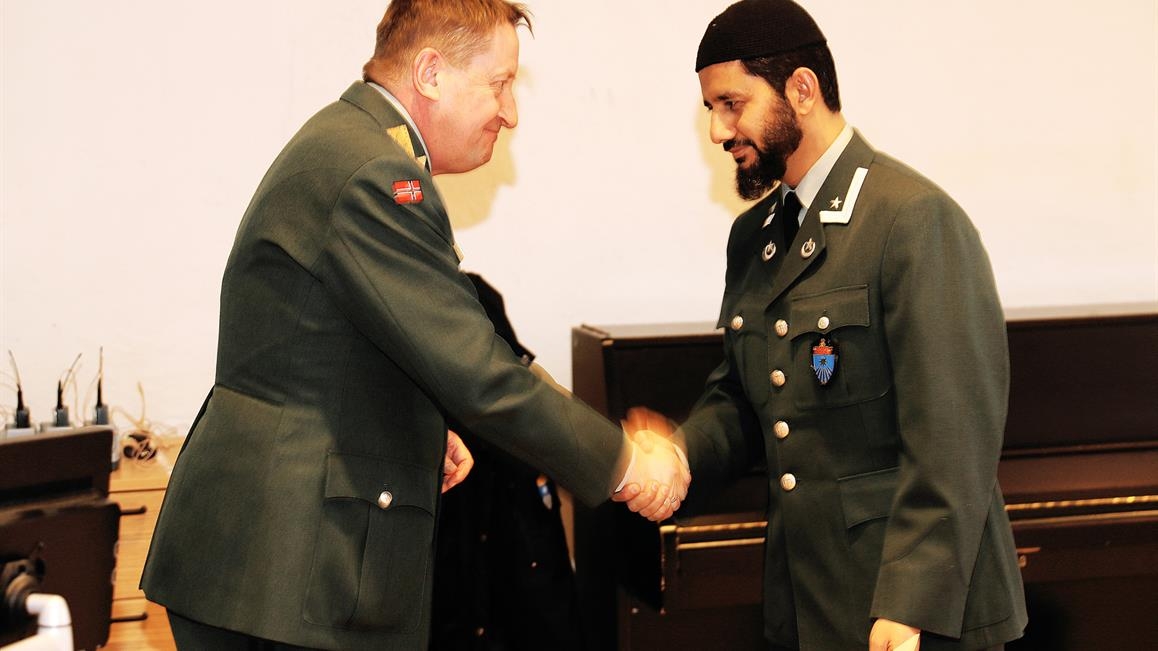 Najeeb ur Rehman Naz, recently appointed the first Muslim chaplain of the Norwegian military, gave advice to a woman in a forced marriage that it was her obligation to respect the duties and responsibilities of the marriage. Pictured: Head military chaplain Brigadier Alf Petter Hagesæther (left) congratulates Naz (right) on his appointment as military chaplain, March 1, 2017. (Image source: Norwegian Armed Forces/Torbjørn Kjosvold)
The Norwegian Police Security Service (PST) just published in February its yearly threat assessment. It concluded -- as did its threat assessment for 2016 -- that Norway might experience an Islamic terrorist attack from Islamic State (ISIS) sympathizers acting upon ISIS's call to carry out independent attacks. The PST explains:
"These calls to action are one reason why we have seen an increase over the last few years in the number of lone terrorist attacks in the West. The likeliest scenario for a terrorist attack in a Western country is an ISIL-/AQ-inspired attack carried out with a simple weapon against a target with little or no protection".
"Lone wolf" attacks are rightly described as an actual terrorist strategy, rather than what the media likes to describe as random "mental illness". In addition, this threat assessment now fits all of Europe.
The PST goes on to warn: