by Giulio Meotti • May 6, 2017 at 5:00 am
As Europe's leaders have no children, they seem have no reason to worry about the future of their continent.

"Europe today has little desire to reproduce itself, fight for itself or even take its own side in an argument". — Douglas Murray, The Times.

"'Finding ourselves' becomes more important than building a world." — Joshua Mitchell.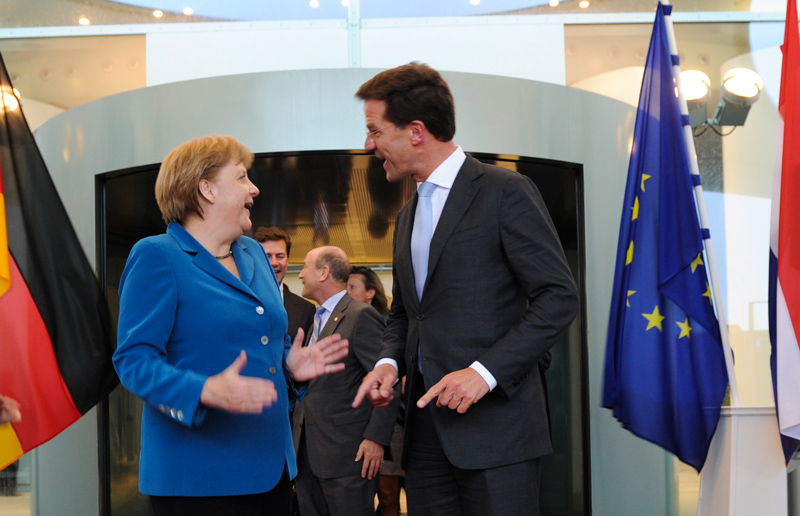 Living for today: Europe's most important leaders are all childless, among them German Chancellor Angela Merkel (left) and Mark Rutte (right), Prime Minister of the Netherlands. (Image source: Minister-president Rutte/Flickr)
There have never been so many childless politicians leading Europe as today. They are modern, open minded and multicultural and they know that "everything finishes with them". In the short term, being childless is a relief since it means no spending for families, no sacrifices and that no one complains about the future consequences. As in a research report financed by the European Union: "No kids, no problem!".
Being a mother or a father, however, means that you have a very real stake in the future of the country you lead. Europe's most important leaders leave no children behind.
Europe's most important leaders are all childless: British PM Theresa May, German Chancellor Angela Merkel, Dutch Prime Minister Mark Rutte and the French presidential hopeful Emmanuel Macron. The list continues with Swedish Prime Minister Stefan Löfven, Luxembourg's Prime Minister Xavier Bettel and Scottish Prime Minister Nicola Sturgeon.