| | |
| --- | --- |
| | |
by Denis MacEoin • August 19, 2016 at 5:00 am
The attempts to deny any ancient and ongoing Jewish presence in Jerusalem, to say there was never a first let alone a second Temple and that only Muslims have any right to the whole city, its shrines and historical monuments, have reached insane proportions.

Is this really what it boils down to? The Islamic State rules the international community? Including UNESCO?

The world is outraged when it sees the stones of Palmyra tumble, or other great monuments of human civilization turn to dust. But that same world is silent when the Palestinian Arabs and their supporters Islamise everything by calling into question the very presence of the Jewish people in the Holy Land.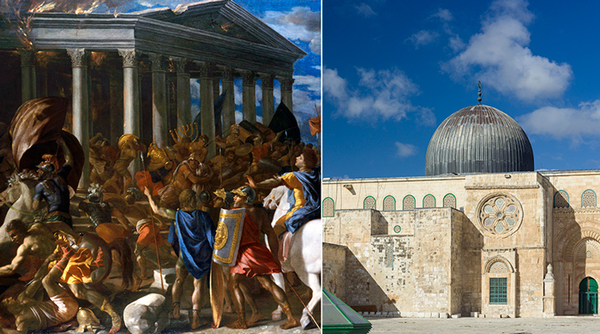 You do not have to be a historian to know that Jerusalem was originally a Jewish city with, later, Christian connections and, later still, weak Islamic connections. The second Jewish Temple, completed by King Herod in 19 BCE, was destroyed by the Romans in 70 CE (depicted at left in a 1626 painting by Nicolas Poussin). The current Aqsa Mosque (right) on the Temple Mount was first built in the year 705, seventy-three years after Muhammad's death in 632, and rebuilt several times after earthquakes. (Images' source: Wikimedia Commons)
UNESCO, the United Nations Educational, Scientific and Cultural Organization, is known throughout the world for the many places it designates as World Heritage Sites. There are more than one thousand of these, distributed unequally in many countries, with Italy at the top, followed by China.
The largest single category of sites consists of religious sites, categorized under the heading of cultural locations (as distinct from natural ones). Within this category, UNESCO has carried out many dialogues with communities in order to ensure that religious sensitivities are acknowledged and guaranteed. UNESCO has undertaken many measures in this field.
In 2010, the organization held a seminar on the "Role of Religious Communities in the Management of World Heritage Properties."
Continue Reading Article